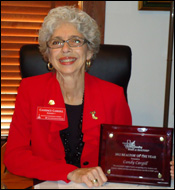 Candy Cargill is the broker and owner of Hill Country Real Estate that was founded by her Mother in the early 1970's making it the oldest company in Blanco County. After having a career in different phases of the sports industry, she moved back "home" and went to work at Hill Country Real Estate in 1986.

She has been involved with numerous civic organizations through the years and is still a member of the Blanco Chamber of Commerce, Gem of the Hills, Friends of the Library, The Yucca Garden Club, The Blanco Woman's Club, The Central Hill Country Board of REALTORS®, The Texas Association of Realtors, the National Association of Realtors, has earned the e-Pro designation, SRES, currently working on a Green Designation and is a supporter of many civic, youth and ecumenical activities. In 2013 she was Vice President of the Central Hill Country Board of REALTORS®, The 2014 President, 2015 Board of Directors as Immediate Past President of The Central Hill Country Board of REALTORS® and the Region 7 Representative to the Texas Association of REALTORS® Political Involvement Council 2016 which includes Boards from the Hill Country like Bandera, Kerrville, Central Hill Country, Four Rivers then goes south to Uvalde, Del Rio, Eagle Pass and Laredo. Making friends along the way! Starting in 2017 she will be the Regional Vice President for Region 7.

She was awarded The Central Hill Country Board of REALTORS® "REALTOR® of the YEAR" award for 2012!

When asked about her real estate profession and her role at Hill Country Real Estate, she said "It means that I have the opportunity to do everything from mowing the grass, mopping floors, cleaning bathrooms to meeting some of the most fascinating people that start off as clients and end up as good friends...just can't think of anything better to do."